A photo tour of the Fairmont showhome by Trico Homes
March 16, 2020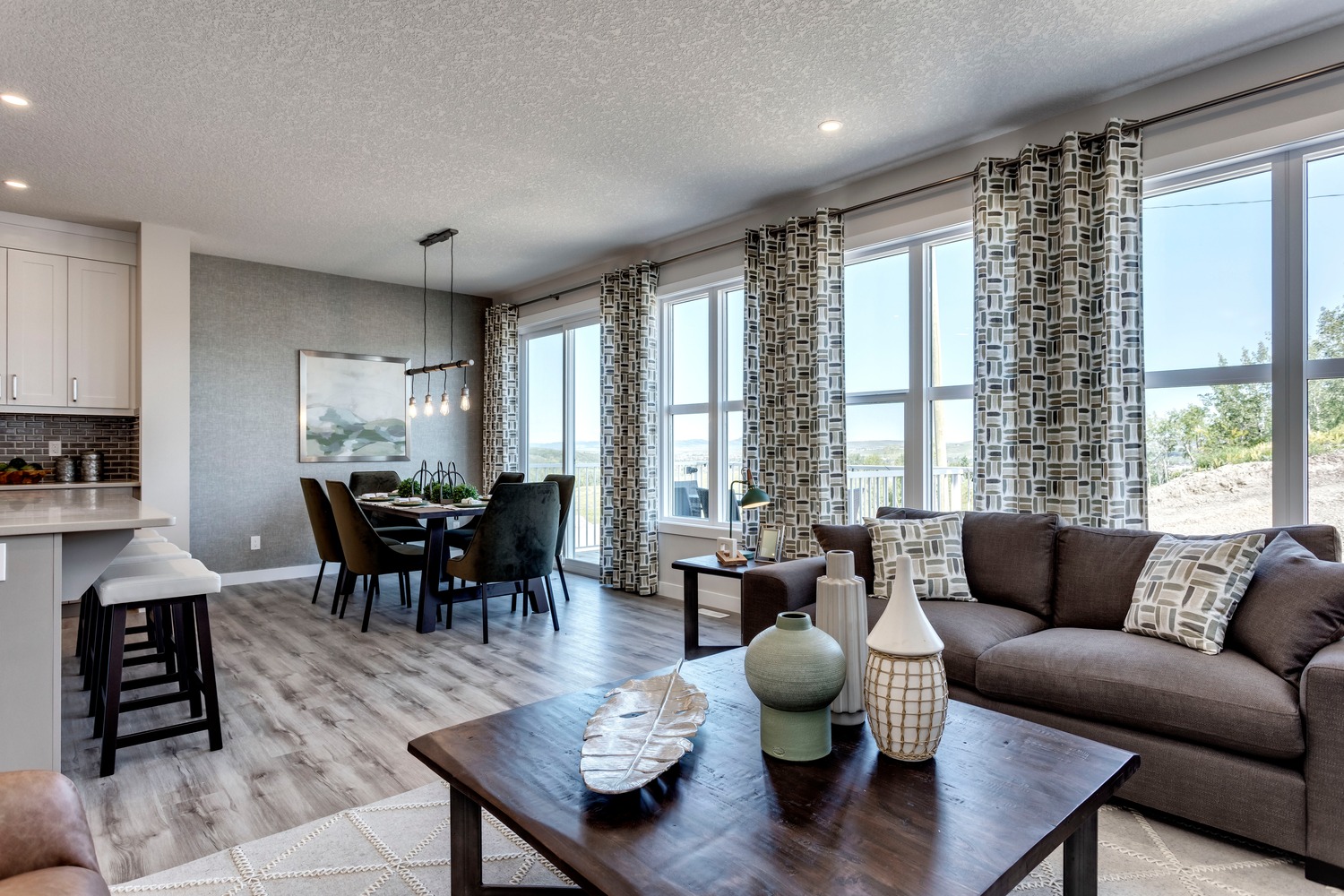 Rivercrest is full of stunning homes of all sizes to fit your needs at every stage of life! In this welcoming community, you can come home to spaces like the Fairmont – a 2,263 sq. ft. front garage home built by Trico Homes. This expertly crafted home features three bedrooms, two and a half baths, and tons of room for your family to grow into. The Fairmont showhome, put together by Trico's design team, turns a traditional space into a peaceful and inviting getaway. Join us as we explore the design elements and unique features that make this space worth coming home to.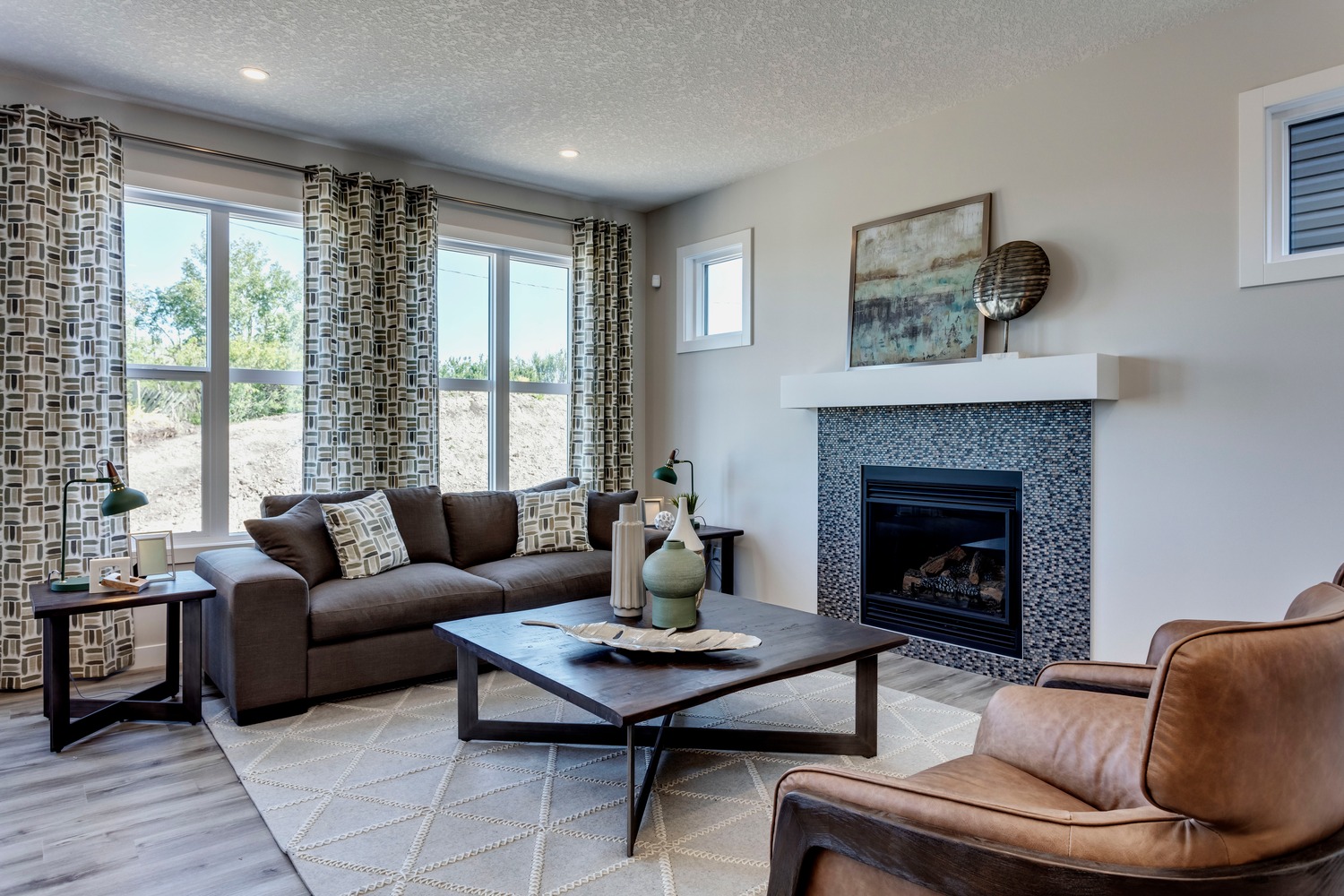 A clever combination of interesting prints and textures create a tranquil and cozy environment in the Fairmont's open concept living space. The tribal prints on the curtains and pillows, and ethereal art pieces pop against the neutral coloured couches and walls. Keeping with the motif of natural elements, Trico's design team incorporated contemporary décor throughout the living room – giving this otherwise traditional setting – a very relaxed feeling. This is all topped off by the large windows letting in tons of natural light.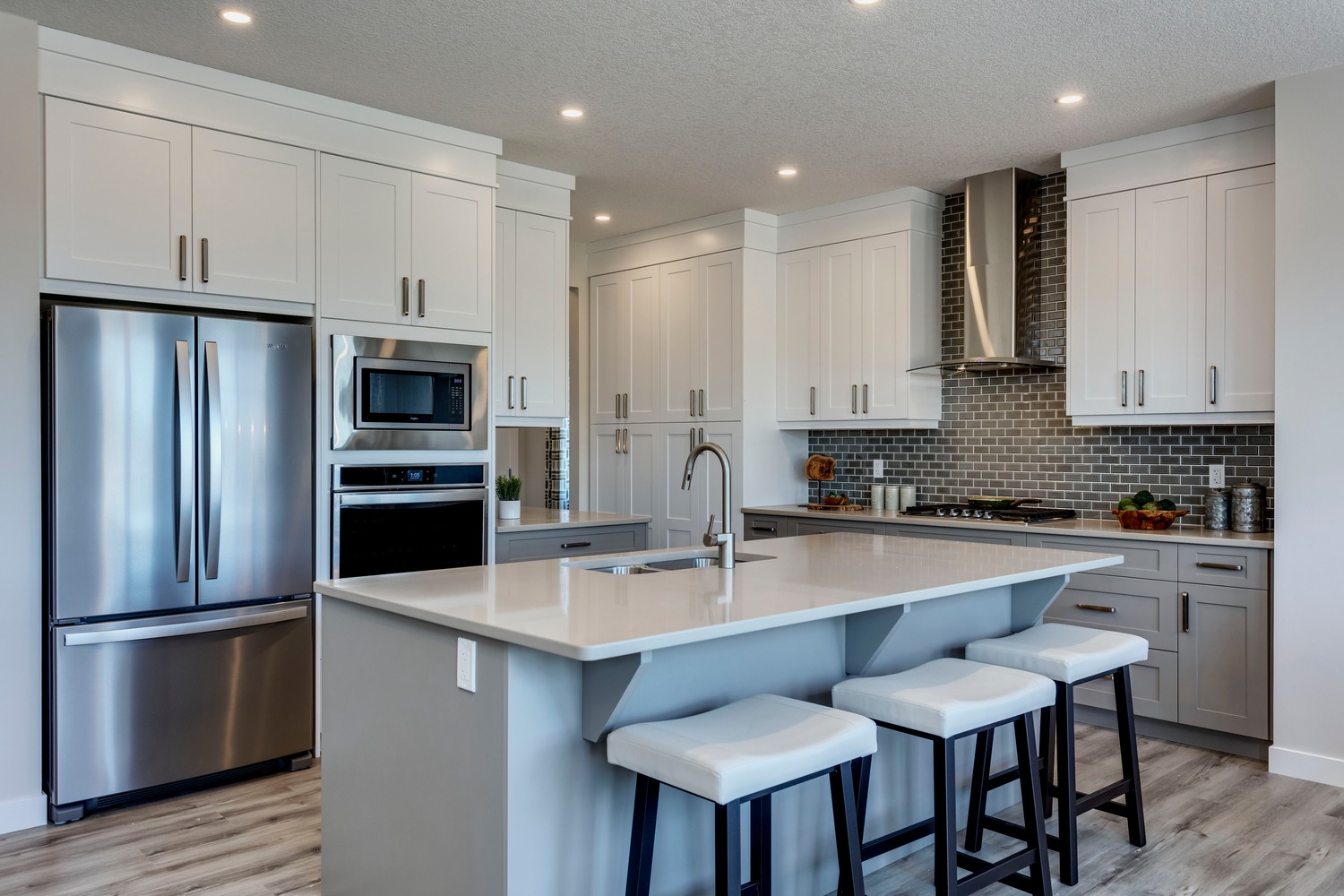 One of the Fairmont's key features is its open and spacious kitchen complete with a central island and eating bar, as well as tons of cabinet and counter space. These features make the Fairmont's kitchen the perfect fit for everyone from master chefs to avid home cooks. With this much space, you can prep large family dinners or just gather with loved ones over some light refreshments. This area also features a walk-in pantry which makes unloading your weekly grocery run a breeze.
The dining room maintains the serene feeling established throughout the home's main floor. Trico's design team created an appealing space by complementing a classic muted dining table setting with bright greenery, and finished off the area with a light fixture which adds a subtle edge. Another interesting design element in the Fairmont's dining area is the calming art piece on the wall which adds a bit of intrigue and is well complemented by the largely neutral colour scheme throughout the home.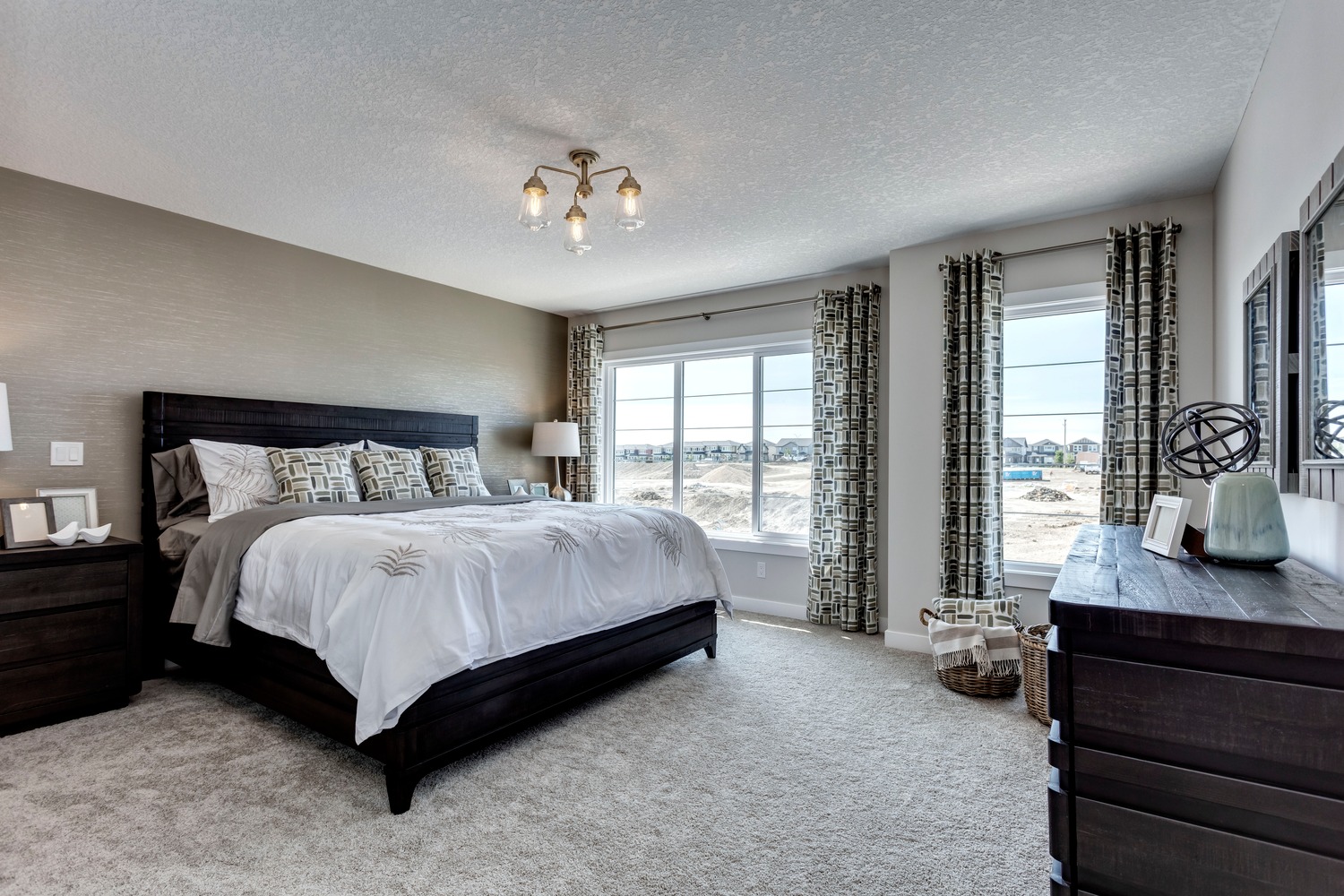 The Fairmont's master bedroom is every homeowner's dream. This bedroom is bright and spacious and comes complete with extra-large windows to let in tons of natural light. The standout element in this room is the collection of simple and contemporary decor scattered throughout the space. These work to liven up the room and give it some personality. The master bedroom is finished off with hardwood furniture which adds a classic touch to the space.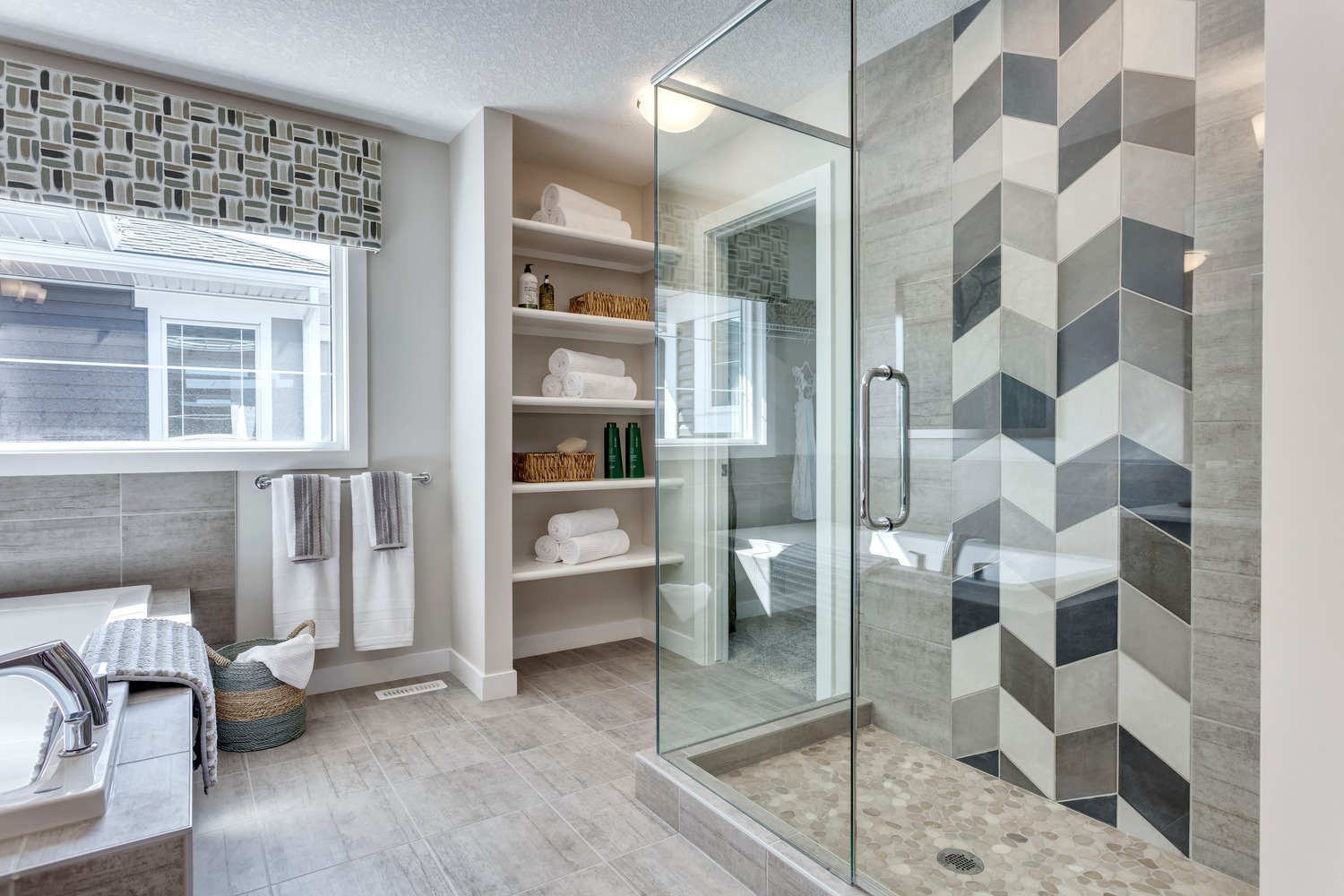 To complete the Fairmont's stunning master bedroom is an equally appealing master's ensuite. This space features dual vanities, tons of storage space and a roomy shower to start your mornings in.
The Fairmont by Trico is the perfect home for growing families. This gorgeous abode offers tons of space, a modern open-concept floorplan and lots of storage space for all your belongings. Dreaming of coming home to the Fairmont in Rivercrest? Then stop by Trico Homes' showhomes and explore your options today!